This massive civic improvement project is bringing San Francisco its first Bus Rapid Transit system, a much-needed and globally-proven solution to improve transit service and address traffic congestion on Van Ness Avenue, a major north-south arterial. To maximize the benefits of construction impacts, the project also includes extensive utility maintenance, civic improvements and transportation upgrades.
See the videos to find out more!
CONSTRUCTION INFORMATION
Community Drop-In Office Hours
Have a question about construction or the Van Ness Improvement Project? Stop by our Construction Office to get assistance from project staff during our Community Drop-In Office Hours:
Van Ness Improvement Project Field Office
180 Redwood Street, 3rd Floor (near Van Ness and Golden Gate)
Tuesdays 2:00-4:00 p.m
Fridays 10:00 a.m.-12:00 p.m.
Excluding holidays
You may also contact project staff directly by emailing vannessbrt@sfmta.com or calling 415.646.2310.
CONSTRUCTION PHASES
The schedule below shows the approved baseline schedule including three construction phases and work you can expect to be conducted in each phase. The actualized schedule is above. Project staff is working to recover the baseline schedule shown below.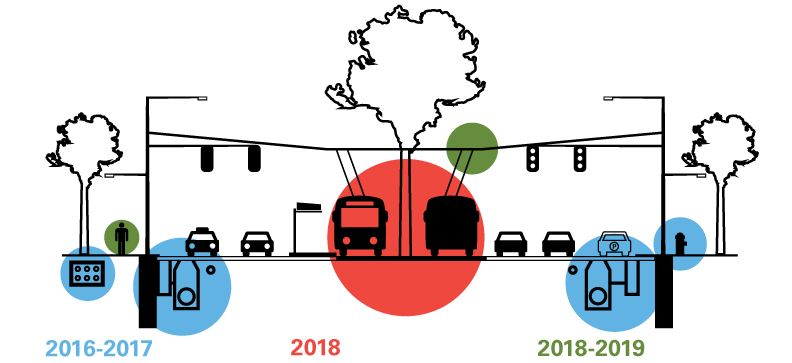 Roadway and Utility Work:
Preparing the roadway for construction
Replacing more than 22,000-feet of 1800's-era water main
Building an underground sewer system to withstand a major earthquake and the impacts of climate change
Overhauling the emergency firefighting system that supplies water to over 1,200 fire hydrants
Updating streetlights with brighter, more efficient lights and adding sidewalk lighting
Installing an electrical duct bank
This first phase will last about 24 months. Once the utility work is completed, the sidewalk and roadway will be restored to begin the next phase of construction.
Van Ness Bus Rapid Transit Community Advisory Committee
I served for three years on the Van Ness Bus Rapid Transit Community Advisory Committee (CAC) provides input to the project team by providing varied perspectives from the surrounding community and City. The nature of the Van Ness BRT CAC is advisory and serves as a connector between the community and the Van Ness BRT project team. The Van Ness BRT CAC shares the community's interests with the project team and project information with their respective communities.

The Van Ness BRT Community Advisory Committee:
Hears project presentations on the approach, content and data at appropriate times and respond with community guidance and input
Makes the project team aware of community priorities and concerns
Acts as a channel to disseminate project information to the community and for the project team to receive feedback from the community.
Agendas will be posted on the project website one week prior the scheduled meeting.
Van Ness Improvement Project
Van Ness Improvement Project